Nearly 80 years of Keynesian fallacy has brought the global economy to the edge of collapse. Governments everywhere love Keynesian economics which axiomatically requires governments to spend to maintain aggregate consumption in their economies. What is there not to like about the idea that you can spend your way to prosperity?
The fallacy is captured in a little mathematical formula called the Keynesian multiplier k, given in all introductory textbooks (e.g. Mankiw, 2006, p. 790) as
The propensity to consume c is the ratio of aggregate consumption to total production (GDP). Keynesian theory asserts that each dollar of new investment produces k dollars of economic output.
Increasing the Keynesian multiplier is the foundation of government policy in most advanced economies. The $787 billion Obama stimulus package in 2008 was explicitly to increase the US Keynesian multiplier through increased consumption in the financial crisis. Recent zero interest rate or negative real interest rate is a deliberate policy to induce more borrowing and spending. Asset bubbles are officially encouraged so that people feel wealthier and spend more.
Decades of relentless application of Keynesian economics have succeeded in producing a steadily rising trend in the aggregate consumption of the US economy as seen in this chart: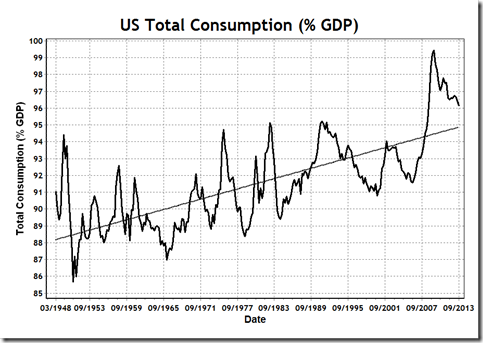 If Keynesian economics were right then this rising trend in total consumption (private, public and capital) should lead to a corresponding rising trend in economic growth and prosperity. Not only did this Keynesian prediction not occur, the empirical data show just the opposite in this chart: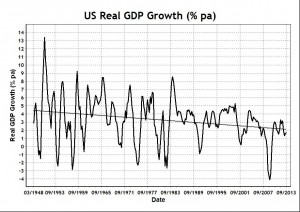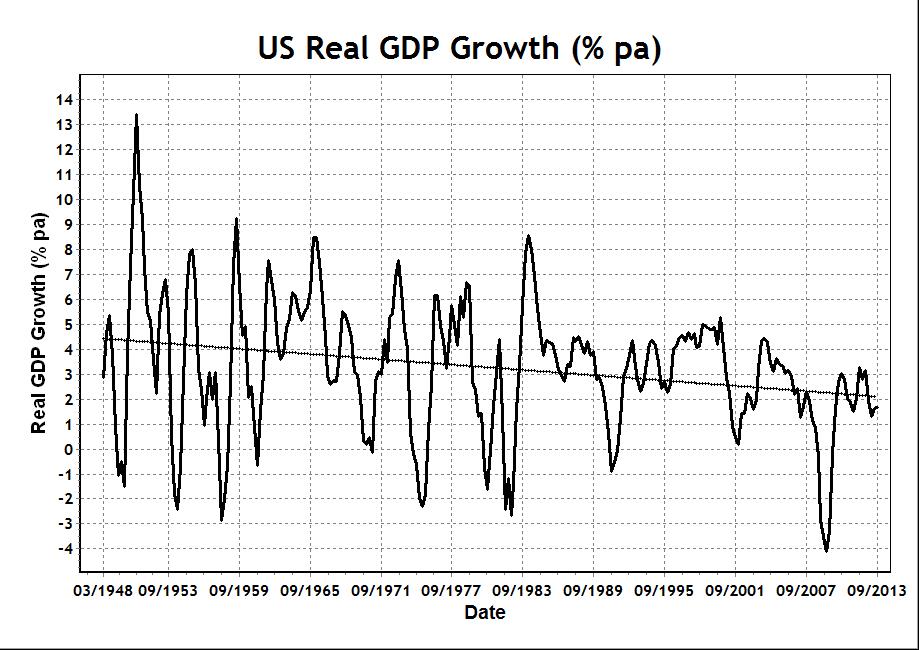 These facts of observation represent a scientific refutation of Keynesian economics. In a research paper containing analysis of the theoretical origin of the Keynesian multiplier, we find that economic growth 
  is given by the formula
The investment multiplier denoted by 
is only equal to the Keynesian multiplier k when the economy is in static equilibrium, when there is no growth 
. For positive growth, the investment multiplier has to exceed the Keynesian multiplier, which is then a minimum threshold value for investment efficiency to produce economic growth.
Hence government policy of increasing the Keynesian multiplier has exactly the opposite effect, resulting in retarded economic growth for given investment efficiency. If policy increases in consumption are so large that c is nearly one, then k is large and
is negative and approaches -1, which represents a substantial contraction, defining economic collapse. Except for massive monetary intervention, the empirical evidence shows that decades of Keynesian fallacy has brought the US economy to the edge of collapse.
Economic collapse may be avoided by a timely abandonment of the Keynesian fallacy.  The teaching of the Keynesian multiplier in economics textbooks has been harmful and unscientific; it should be modified or abandoned altogether.  This conclusion is completely independent of political ideology.