For several decades, the historical data show that the monetary policy of central banks has been to use debt to stimulate the global economy, constrained only by the possible emergence of high inflation. This post shows that the policy has been economically destructive for US economic growth and, with more audacious pursuit of such a monetary policy recently, the risk of a Keynesian economic collapse has increased substantially (Sy, 2014).
A few decades of US monetary stimulus has led to zero or negative interest rates and the accumulation of a mountain of debt, which economists confuse with money and consider as innocuous, because "debt is money we owe to ourselves" (Krugman, 2015) or "one person's debt is another person's asset" (Fatas, 2015). Of course, debt is harmless provided it does not lead to bad loans or credit defaults, which are assumed negligible and ignored in standard economic theories taught at universities. The reality is very different.
Debt is the financial vehicle through which future spending of savers is transferred to current spending of borrowers. The transferred spending from savers to borrowers may be consumption or investment and saving is not always invested (Sy, 2014b). If the spending from the debt is good investment which leads to income exceeding the cost of capital borrowed then the debt will be repaid to savers for their eventual spending (Minsky, 1992).
If the spending from the debt is bad investment or consumption then there may not be the means later to repay the debt to savers who may have lost spending through default of the borrowers. In this case, debt represents purely a bringing forward of spending and economic growth, in lieu of future spending and economic growth. Debt then merely allows greater current spending and creates temporarily the illusion of current prosperity at the expense of future prosperity.
Debt Not All the Same
Comparing debt levels relative to Gross Domestic Product (GDP) across many countries in a so-called panel data analysis is a meaningless statistical exercise (Reinhart and Rogoff, 2013) because it involves an unscientific fallacy which assumes ceteris paribus – all else are equal. All else are rarely equal.   Different countries have different structures of aggregate demand and therefore debt levels per se could have very different effects on economic growth in those countries.
For example, as Fatas (2015) correctly indicated, Singapore has government debt exceeding its GDP, even while its government runs budget surpluses. The debt has not come from funding government consumption. The debt in the form of government bonds has been issued for the purpose of helping the investment of the Central Provident Fund, Singapore's national pension system. The debt has been created to transfer national savings to fund investments by the Singapore government, which has substantial assets in a very sound balance sheet. But Singapore is a misleading example.   In many other countries, the typical origin of national debt is usually to fund consumption, and not investment, unlike the case for Singapore. This paper shows that the similar debt level to GDP of the US economy has been mostly to fuel consumption, thus indicating a significant risk for the US economy (Sy, 2014).
Consumer Spending
Since the global financial crisis, a past US Secretary of the Treasury and now a Harvard professor, Summers (2011), has repeated on several occasions that
…the central irony of financial crises is that they're caused by too much borrowing, too much confidence and too much spending and they're solved by more confidence, more borrowing and more spending.
The need for more spending is echoed widely in the media and approvingly by the chairwoman of the US Federal Reserve, Yellen (2014), who said in an interview:
Our policy is aimed at holding down long-term interest rates, which supports the recovery by encouraging spending. And part of the [economic stimulus] comes through higher house and stock prices, which causes people with homes and stocks to spend more which causes jobs to be created throughout the economy and income to go up throughout the economy.
More recently, Nobel laureate Stiglitz (2015) diagnosed monetary policy ineffectiveness in stimulating economic growth, saying in an interview:
The lower interest rates have led to a stock-market bubble – to increases in stock-market prices and huge increases in wealth. But relatively little of that's been translated into increased and broad consumer spending.
Previous papers (Sy, 2014, 2015) have shown that there has never been a lack of consumer spending in the US economy. According to BEA data (2015), between 1965 and 2014 private consumption increased steadily from under 60 percent of GDP to nearly 70 percent. Total consumption, including private, public, fixed capital and external sector consumption, increased from a low of 86 percent of GDP in 1950 to a high of over 99 percent in 2009. The belief that lack of consumer spending is the cause of slow economic growth is an enduring Keynesian fallacy, because the belief can be shown to be factually false in the US and elsewhere for several decades.
Debt Financed Spending
Research shows that for several decades US policy has been to generate economic growth through consumer spending financed through debt or fiat money. This Keynesian policy of continual stimulation of the US economy has led to a mountain of debt and a destruction of economic growth. The causal mechanism of how this occurs has been identified in this post. The over-consumption structure of US aggregate demand has led to lower economic growth which in turn called forth more monetary stimulus, more new debt, greater propensity to consume and lower economic growth, in a vicious spiral of increasing debt and destruction of the US economy.
The US economy is pivotal to the global economy because it is the largest economy in the world; the US dollar is nearest to being a global currency; and, through free capital flows and flexible exchange rates, US monetary policy is transmitted widely and has direct impact on the rest of the world. Hence, for better or worse, US policies are often echoed in those of other countries, though this situation may be changing due to relative US economic decline.
Debt and Consumption
Since the 1980s, easy monetary policy in the US has often led to credit growth exceeding economic growth. This credit growth has been used to finance the rising trend in propensity to consume as observed in the following chart.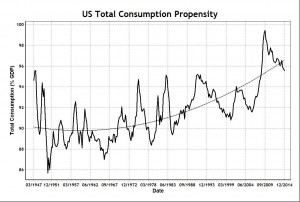 The increased consumption has been financed by debt (or credit).  The data used for credit is non-financial credit which includes household, business, State and Federal government credit. The relationship between borrowing and consumption spending is evident even on a quarterly basis. Credit stimulus is defined by when the growth in the variable (Credit/GDP) is positive. The chart below shows that credit stimulus generally leads to increases in the propensity to consume, as economic policy had intended. The correlation is statistically significant at 62 percent.
Note that since nominal GDP is in the denominator of both of the variables in the above chart, the chart also displays (with only a change in axis labeling) the direct relationship between total consumption growth and the growth in non-financial credit, indicating a strong positive correlation and showing US consumption being financed by debt.
Consumption and Growth
For the US economy, which was already supply-deficient, further stimulation of consumption demand through debt financing has been shown (Sy, 2015) to be counter-productive. The following chart shows that consumption stimulus from increasing the US propensity to consume leads to decreasing economic growth and increasing probability of economic recession, with a statistically significant anti-correlation of -77 percent.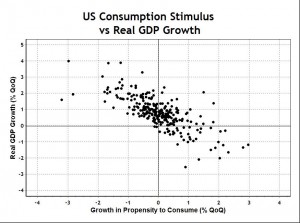 This chart exposes the fallacy of the Keynesian investment multiplier (Sy, 2014) and of the assumption that any type of spending or activity will stimulate economic growth (including digging holes in the ground). Even though Keynes had a preference for investment, he nevertheless saw consumption also being effective in stimulating economic growth and employment. Keynes (1936, p.325) stated that, if policy stimulus does not bring forth increased investment, then the remedy is increased consumption:
If it is impracticable materially to increase investment, obviously there is no means of securing a higher level of employment except by increasing consumption.
The above chart shows that this Keynesian prescription of consumption stimulus has been counter-productive. It has been shown (Sy, 2014) that it matters a great deal what is the actual structure of aggregate demand arising from the spending, as there exists an optimal split between consumption and investment for economic growth. Indeed the data show that, for the US economy, negative growth in the propensity to consume is correlated with positive real GDP growth. This may be construed over-simplistically as an argument for austerity for the US economy, though the real reason lies in the structure of aggregate demand, which is more important than simply the level of aggregate demand for economic growth.
Debt and Growth
The net result of easy monetary policy and excessive credit expansion has been a rising propensity to consume (see the first chart) and the destruction of the US economy, which has been proceeding largely unnoticed for the past several decades. Unquestioning acceptance of the Keynesian dogma has been inculcated into popular belief through the economics education system, now reaching into all areas of government policy, including those of central banks.
The overall impact of Keynesian policy of relentless monetary stimulus can be seen in the following chart, showing that excessive credit growth above economic growth is associated with lower economic growth and recessions – the greater the monetary stimulus the lower the economic growth.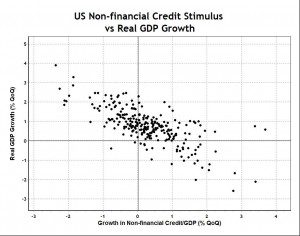 The anti-correlation is statistically significant at -72 percent. But by itself, the clear anti-correlation shown in this chart is insufficient to infer causality, because credit growth above GDP growth might have been entirely attributable to an unanticipated decline in economic growth. But this explanation can be dismissed on the basis of the relationship between credit growth and debt-financed consumption shown in the second chart above and the relationship between over-consumption and decline in economic growth established in an earlier study (Sy, 2014), as displayed also in the third chart of this post.
Debt and Destruction
To supplement the over-consumption explanation of secular stagnation and decline, a second approach to establishing causality is by examining the temporal sequence of credit growth relative to economic growth. Causality requires event A to occur before event B, if A can be said to cause B.  The time series data show (see Research Paper) that, whenever the rate of change in the Credit/GDP ratio fluctuated around zero, as in the 1960s and 1990s, the US economy grew relatively strongly and steadily, without recessions. Whenever the growth rate in the ratio is high, as in the 1950s, 1980s and 2000s, the US economic growth became more volatile with recessions.
Evidently excessive debt generally led to unproductive consumption or investment and ultimately caused economic destruction (recessions) from over-consumption, over-capacity and under-investment in sound production (Sy, 2014). In a fiat money system there is virtually no financial constraint on debt creation, allowing excessive debt to become an economic problem in resource allocation.
Deleveraging
It is the data on new debt or paying down debt (deleveraging) which may indicate most clearly economic decisions and deliberate actions which have the strongest impact on the economy. The annual rate of new credit creation can be obtained by subtracting the interest rate for debt servicing from the actual credit growth rate given by the raw data:
Growth rate of new credit = Growth rate of credit – interest rate of debt service
The relationship between the growth rate of new credit and real economic growth rate is shown in the chart below.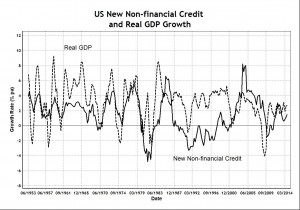 There have been few deleveraging episodes where there were reductions in debt rollover leading to an effective paying down of debt: a few years in the early 1980s, about a decade in the 1990s and a couple of years after the global financial crisis (GFC). Whenever new credit growth rose above 4 percent, it was followed three to five years later by a recession. On the other hand, the periods of negative new credit growth or paying down debt were usually followed by several years of strong growth, particularly in the 1980s and 1990s.
This observation is consistent with fact that debt represents the bringing forward of future spending. Whatever stimulating effect that increased excessive debt has on economic growth, it has to be paid for by a lower rate of growth in a future period.  The assumption that excessive debt is a problem solved by stronger growth is falsified by the facts of observation which show excessive debt causes weaker growth.
Clintonomics
The 1990s were the halcyon days often referred to as the "Great Moderation" for which economists (Bernanke, 2004) have few explanations, with Greenspan (2007, p.367) attributing it to the invisible hand of Adam Smith. The economics associated with the Clinton presidency was exceptional. Far from expanding credit to fuel economic growth, as commonly believed, the US economy was actually paying down debt, with negative rates of new credit growth, as seen in the above chart.
The Clinton years (1993-2001) can be characterized by a period of tightening monetary policy (rising Fed funds rates), government austerity (increased tax receipts and decreased outlays) and debt-deflation (paying down debt), all of which are widely dreaded as "deflationary" today by economists and the public media (Krugman, 2015b; Sen, 2015). Yet the US economy grew strongly and steadily at 3.8 percent per annum with record low unemployment of 3.9 percent. (For details see Research Paper.) Those eight years of economic facts, which are rarely mentioned, should have exploded many Keynesian myths.
The reason for this apparently miraculous performance was a reduction of total consumption by 3.2 percent of GDP, with a corresponding increase in net investment, which is the main driving force of economic growth (Sy, 2014). This restructuring of aggregate demand came from a reduction in government expenditure, because after years of privatization of public investment assets, the government has a lower ratio of investment to consumption expenditure than that of the private sector. Therefore, a reduction in government expenditure leads to an increase in the ratio of investment to consumption for the overall economy.
Debt Spiral
The Clinton years were a notable hiatus in decades of US policy which has been to generate economic growth through consumer spending financed through debt or fiat money. As a Republican congressman, and later a government budget director, noted (Stockman, 2013, p.276): "But Bill Clinton's courageously balanced budgets were the last hurrah of fiscal orthodoxy". Excessive debt generally distorts the structure of aggregate demand by suppressing the ratio of investment to consumption. Long-term economic policy has created an over-consumption structure in US aggregate demand, which has a lower potential for economic growth.
Whenever economic growth falters, more monetary stimulus is called forth, leading to more new debt, greater propensity to consume, unbalanced aggregate demand and lower economic growth, in a vicious spiral of increasing debt and destruction of the US economy. A previous study (Sy, 2015) suggests that there exists an optimal split between investment and consumption for the US economy. But since the US economy is already in the over-consumption regime with sub-optimal economic growth, excessive debt creation has been leading to greater and greater over-consumption relative to investment. The result is economic stagnation followed in recent years by accelerated decline, potentially a Keynesian economic collapse (Sy, 2014).
Wasteful spending financed through debt has infected many other countries, including Japan and more recently China. In a global fiat money system with financial innovation and Keynesian policy, debt provides inadequate constraint on bad economic decision making. Debt is an economic problem created by financial innovation, where imprudent debt enables wasteful spending which destroys real capital and global savings where "one person's debt is another person's fictitious asset" and "debt is money until it isn't".
For further discussions see the Research Paper.