One of the first posts of this blog describes the potential for a Keynesian economic collapse due to persistent policy application, over decades, of the Keynesian fallacy. The fallacy originated from simple mathematical errors in Keynes' General Theory which have never been corrected. Instead, they have been perpetuated in basic economic textbooks and form the foundation of government macroeconomic policy.
It is now so important to point out this fallacy that it is worthwhile repeating the argument and its refutation as simply and clearly as possible. On page 115 of the General Theory, Keynes (1936) wrote (suppressing inessential subscript symbols):
For
, where
and
are the increments of consumption and investment; so that we can write
, where
is equal to the marginal propensity to consume.
Let us call k the investment multiplier. It tells us that, when there is an increment of aggregate investment, income will increase by an amount which is k times the increment of investment.
Spelling out the mathematics more clearly, we note that from the national accounting identity, involving national income, consumption and investment respectively:
,                                                               (1)
it follows that an equation for increments is:
                                                         (2)
Define the marginal propensity to consume c by:
                                                            (3)
Substitution of equation (3) into equation (2) and a rearrangement results in a standard textbook equation:
                                                             (4)
Introducing the Keynesian multiplier k by
                                                                (5)
it is seen, in agreement with Keynes (quoted above), that
, where
is equal to the marginal propensity to consume c.  The mathematical manipulations appear straightforward, but equation (4) is misleading and introduces the mathematical errors of treating the Keynesian multiplier k as the investment multiplier and suggesting that it is independent of other variables and can be fixed by policy. There is a number of errors involved in this fallacy.
Mantoux (1937, p.109) and Sy (2014) noted that if everything is consumed then the propensity to consume would be unity, and investment multiplier (5) would be infinite. No other economist since Keynes appears to have suggested that this "singularity" is mathematically unacceptable. It remains in standard economic textbooks (e.g. Mankiw, 2006, p.790; Bernanke et al., 2009, p.214) causing havoc through government policies.
The Keynesian multiplier k is not something that the government can set or change independently of or , given the mathematical logic above.   The statement (Keynes, 1936, p.115) that "when there is an increment of aggregate investment, income will increase by an amount which is k times the increment of investment" is mathematically false. This is the foundation of decades of policy errors.
The methodological error is to suppose that it is possible to start with an accounting identity, equation (1) and then infer a causal relationship or deduce a dynamic. This is a fallacy. Causality has to be empirically induced from observations or stated as an assumption (to be proven).
The above theory is deterministic since there is supposedly a direct causal relationship between the increment of aggregate investment and its increment of outcome in national income. This determinism contradicts directly the belief in uncertainty which post-Keynesians assert is essential to the Keynesian philosophy (Davidson, 2009).
It is unclear why the error has remained undetected for so long. Perhaps it is the awesome reputation of Keynes. But in my school days, many of the students who were relatively weak in mathematics went to the C classes and studied business, commerce and economics. If this is a general reflection, it may explain the low level of technical skills among professional and academic economists. The mathematics on display in economic journals is generally not pretty.
There are many other Keynesian fallacies exposed by his critics (Hazlitt, 1977). But mistaking the Keynesian multiplier as the investment multiplier may be the most germinal of all his fallacies. Certainly, it occurs frequently in economic policies and has had the greatest impact in global economic outcomes – this is why it should be called here the Keynesian fallacy.
The Keynesian fallacy is defined as the false proposition that the investment multiplier is equal to the Keynesian multiplier (which is actually only the case for zero-growth equilibrium).  The fallacy is very serious because attempts to increase economic growth by increasing consumption and the Keynesian multiplier would have exactly the opposite effect, as shown by empirical evidence (Sy, 2014).
Decades of fiscal and monetary policies to stimulate consumer spending have succeeded as desired in increasing the propensity to consume. But they have also resulted in mountains of debt (Sy, 2015c) and secular declines in economic growth in many countries, now risking a global Keynesian economic collapse.  By increasing the propensity to consume, governments have also engineered corresponding declines in investment, as dictated by the accounting identity, equation (1).
An example of declining investment in the US Keynesian economy can be seen in the chart below, using official data (BEA, 2015). A substantial part of gross investment is the consumption of fixed capital, which is the replacement of depreciating capital facilities to maintain current levels of production. For positive economic growth, there has to be positive net investment to increase production. Analysis shows that the 60 percent correlation in declining net investment and declining economic growth is statistically significant.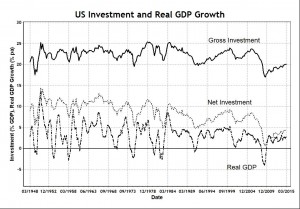 This chart provides the empirical evidence showing the Keynesian fallacy because increasing propensity to consume leads to decreasing net investment and decreasing economic growth, just the opposite of predictions from the Keynesian theory.  Such a simple and obvious fact is not acknowledged, let alone explained, by economists who put the theoretical cart before the empirical horse in a serious misunderstanding of science.
As the propensity to consume rises and net investment falls over the decades, the goods and services produced domestically are no longer sufficient to meet domestic consumption demand. The deficit in consumption supply has been met with imported goods and services, which have been financed by both domestic and foreign debt because of insufficient earnings from reduced domestic production.   Hence the measured GDP includes a component of consumption not endogenously created but financed by debt. If this component of consumption is to continue to contribute to economic growth, then new debt has to continue to grow as well. This is the spiral of debt and destruction of the US economy (Sy, 2015c).
Despite the fallacy of composition which says individuals cannot consume more than they produce, but a nation can, the empirical fact is: increasing consumption and decreasing production are not a sustainable strategy for long, even for a nation. Financialization has created innovative ways to mask temporarily the significance of ever growing debt, e.g. through asset bubbles, which make household and business balance sheets look much healthier than they really are.
However much valuations of financial promises have been inflated by artificially low interest rates, stock dividends and bond coupons have to be paid out of earnings which must eventually diminish due to declining production and income. Sooner or later it will be realized that zero earning discounted at however low rates is till zero, savings have been consumed (not invested) and many pension funds are bankrupt.
An asset market collapse (already started in China) may lead to recognition of the true nature of the economic problem caused by policies based on the Keynesian fallacy. Financial trickery of fiat money, debt and derivatives cannot mask forever the reality – it can only postpone, but not prevent, a rude awakening. The important roles played by neoclassical economics and financial markets in government policies will be placed in perspective in a future post.