"Saving=Investment" is axiomatic in macroeconomics as it is taught in basic textbooks, found in advanced research and assumed in national statistics. Yet it is a fallacy which can be traced to Keynes (1936, p.63) where he defined saving as "the excess of income over consumption" in a framework of equilibrium circular flow of national income.
This is a fallacy because the economy is generally not in equilibrium in each period (i.e. income is not equal to expenditure). The excess of income over expenditure is adjusted in the national accounts by introducing a term called "statistical discrepancy" or "net borrowing or lending" (in the US) in order to force equality in the statistics. It is this important discrepancy which is actually the aggregate saving rate because it is defined by income minus expenditure for each period.
The "excess of income over consumption" is literally the rate of unconsumed surplus which could be invested or saved in each period. Hence, in each period the rate of investment and the rate of saving are distinct and mathematically unrelated quantities. It makes no sense to assert "saving=investment". The correct accounting equation for the disequilibrium flow of national income is
Surplus = Saving + Investment,
where "Saving" or the rate of saving is linked to the national balance sheet which accounts for national assets and liabilities. Saving is a withdrawal from income flow and accumulates as the stock of national saving for future expenditure.   Without this new interpretation of income flow, there can be no stock of national saving since, if "income=expenditure" in each period, then "surplus=investment" and all unconsumed surplus is invested back into the equilibrium income flow – there can be no saving accumulation outside the flow.
The equilibrium framework cannot properly describe the disequilibrium processes of our world.   For example, equilibrium theory cannot be used to describe secular trends, such as the "secular stagnation" notion of Hansen (1939) recently resuscitated by Summers (2013).
Secular trends are naturally observed with a disequilibrium interpretation of US national income data supplied by BEA (2014). The US national saving rate is not just low, as commonly believed, but has been substantially negative (up to nearly 6 per cent of GDP) for the past few decades. Recently, Greenspan (2014) has observed accurately, "we are eating our seed corn", as over the decades, past and future US savings have been consumed.
In a previous post, it was shown that continual Keynesian economic stimulus had led to US over-consumption (high propensity to consume) which is arithmetically equivalent to under-investment (low propensity to invest). Keynesian economic collapse would have occurred during the global financial crisis, had it not been for more saving and new credit injection into US economic flow to augment national income.
A significant part of measured economic growth since 1980 has come from the injection of past and future saving and new credit into the national income flow.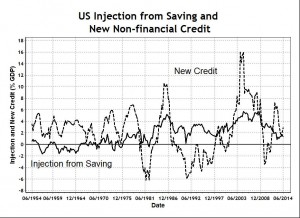 The cumulative saving injection into the economy leads to running down the national stock of saving by over ten trillion dollars. If the measured economic growth is adjusted for the fact that a significant part of it was not related to economic production, then the actual economic growth appropriate for calculating productivity shows that the productivity growth rate is not just low or falling, as commonly believed, but has been substantially negative since 2000.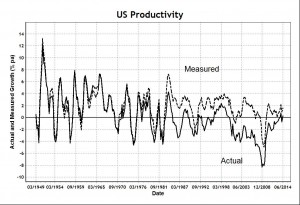 The secular stagnation (or more accurately, the secular decline) of the US economy may be attributed to the secular decline in production, and therefore productivity, which may also explain the relative decline of wages and salaries and the rise of income inequality. Increasing share of disposable income has come, not from production, where workers are required, but from government transfer payments and from dividends and capital gains of asset markets.
Based on equilibrium theory, Summers (2013) proposed that the solution to secular stagnation was more of the same - lower or negative real interest rates - whereas Hansen (1939) had already cast doubt on such an idea:
Yet few there are who believe that in a period of investment stagnation an abundance of loanable funds at low rates of interest is alone adequate to produce a vigorous flow of real investment.
Indeed, real investment drives economic growth through production (Sy, 2014). Financial investment has no direct impact on economic production. Low interest rates, which inflate asset bubbles, make financial investments relatively more attractive than real investment. Big banks prefer the liquidity of financial markets and find financial speculation far more profitable than the relatively illiquid and risky business of traditional lending to enterprises, particularly to small business. Financial markets, where saving and investment are mostly directed by policy, may have little impact or even detrimental impact on the real economy.
A full version of this paper was submitted to Norbert Haering of the World Economics Association (WEA) for its forum for open peer discussion. The paper was rejected out of hand because I was "inventing the wheel without paying significant attention to related literature, like the one on stock-flow-consistent models. This is the most important point." How this criticism can be relevant is a mystery, because the paper treats a single sector (the nation) and is therefore trivially stock-flow-consistent, since there is no need to keep track of inter-sectoral flows.
The economic establishment, including academics, governments, central banks, mainstream media and big businesses, uses its power to manipulate data, information, opinion, markets, laws and behaviour to drive the global economy to endogenous crisis (Sy, 2012). Its power to ignore facts and contrary evidence to preserve the unscientific economic paradigm makes it very likely that the current policy trajectory will continue until economic collapse.